I am inspired by the timelessness of stone. It has a quality which can transform a transient moment into an eternal one. Where a sleeping child or a bird in flight can take on a symbolic meaning. It speaks to our primitive soul, and has a beauty from the depths of the earth.
I also take great inspiration from the beauty and wildness of Argyll where I live, whether it is walking my dog through the forests and hills, or swimming in the lochs and sea I feel the vital energy of the nature around me and the constant changing of weather and seasons.
I work mainly in stone and my preferred choice is Sandstone as it has a warmth and simplicity about it. I choose to use traditional hand tools for all my work.
I also work in Maltese Limestone which has a very different feel. It is white and smooth and ideal for indoor pieces.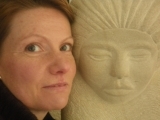 My approach to stone carving is very meditative. The slow carving away of material to find a form within. I try to show something of the eternal in my work, something of the earth in which the stone, along with centuries of memories form a part.
I do both architectural work such as that shown on the Corbels page and smaller pieces like those in my online gallery
From my studio in Castleton in Argyll, I create sculptures and stone carvings. These are available from the artist directly, see the contact page.
I am a member of Art Map Argyll and open my studio each year usually during the last week in August. You can find out more about ArtMap Argyll on their website
I often show my work in some local woodland trails such as the SNH Taynish peninsula where we have an annual art trail and also the Cormonachan woodland trail in Lochgoilhead, where I recently showed some pieces.
Check back soon for more upcoming exhibitions.